Whether at camp or at either House of Studies, the development of your spiritual life parallels the growth of mind and body. Mass, Divine Office, meditation, spiritual reading, Rosary - all combine to lead you daily to a greater love of God. The three vows of obedience, poverty, and chastity, are the means for developing within your soul strong virtues, enabling you to give yourself completely to God.
By promising obedience you place your will in the bands of your superiors, promptly and cheerfully doing all that they command. By embracing voluntary poverty you give up the right to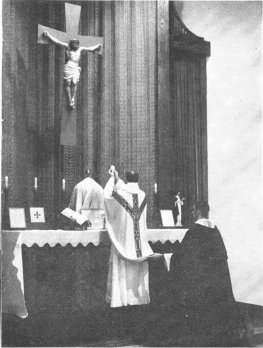 Above:
During the student days there is frequent
opportunity to serve at Mass.
own property of any kind. By the vow of chastity you promise to be pure in mind and body and never to marry. Simple or temporary profession is made at the end of your novitiate year. Three years later you make solemn profession, the supreme act of love which binds you to Christ and the Church for the rest of your life.
Of course, there is more to your spiritual growth than just keeping the three vows. The regular life and the monastic observances also play their part. Regular life means living according to the Rule of St. Augustine and the Constitutions of the Order. Knowing it to be a valuable aid to spiritual perfection, St. Dominic selected the Rule of St. Augustine for his Order. Drawn up in harmony with the Rule are the Constitutions of the Order, which provide important legislation which has enabled the Dominican Order to flourish and to work smoothly and efficiently in the service of the Church. The monastic observances concern the daily life of the members of the community. These observances include wearing the habit, keeping silence, observing the monastic fasts, performance of assigned duties, at-

Below:
The years of theology are especially devoted to preparation for the sacred ministry of preaching; preaching frequently to your own classmates helps to remove any defects in public speaking, and their helpful comments encourage all your best efforts for improvement.