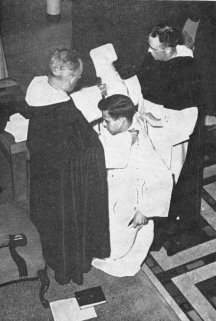 A new novice receives the black and
white habit of St. Dominic.
The Novitiate Year
A New Name
A New Family
A New Way of Life

When you arrive at the novitiate in Winona, Minnesota, you will begin an eight day retreat. At the conclusion of the retreat you receive from the bands of the Prior, your new superior, the full habit of the Order of Preachers -the white tunic with leather belt and rosary, the long white scapular, and the capuce. Over these are placed the cappa and black capuce -a black outer cape and hood. You get a new religious name, too, to symbolize the start of a new life. On this day your year as a Dominican novice officially begins.
This year of novitiate is above all a time of prayer. From the very start of your Dominican life you take your place among the thousands of your new brothers, and each day you chant in choir the hours of the Divine Office, the offi-