Parish Missions & Renewals
Retreats
Adult Catechesis
Prayer Days
Priests and Deacon Development Practica
Spiritual Direction
Priest Coverage & Relief
Missions begin with all weekend Masses and continue through until Wednesday evening.
Specialty Areas: Spiritual growth and Christian formation.
Topical suggestions available on request.
---
Bob Staes, O.P.

After serving 15 years as a secular priest in the Diocese of Davenport, Iowa, Fr. Staes entered the Order of Preachers (Dominicans) in 1984. Fr. Staes has served in parishes, director of campus ministry, high school and university teaching. Most recently he was professor of homiletics at the former St. Thomas Seminary in Denver.
Before ordination, Fr. Staes was an artist in the advertising department of John Deere and Company in the Midwest. Fr. Staes holds a certification in Analytical Psychology from the Jung Institute of Chicago, and certification as a Burghardt Scholar from Weston School of Theology in Cambridge, Massachusetts. He holds a Masters of Theology from Aquinas Institute of Theology.
Fr. Staes now joins the ranks of the itinerant preachers of the Cental Province serving priests sisters and laity in the vineyards of the preaching mission of God's Word and Sacrament. See also Fr. Bob's drawings at: http://www.op.org/domcentral/library/BobStaes/.
---
The Genesis of Itinerant Preaching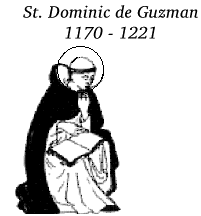 The 13th century saw the movements of the populations from feudal (rural) Europe to the birth of large cities. The many social needs of such times caused the founding of religious orders.
Preaching was in crisis. Church law at that time allowed only bishops to preach so therefore seldom did people hear the WORD because of the heavy administrative burdens on the episcopacy. The teachings among the faithful were ladened with doctrinal errors that needed eo be refuted. To address this preaching crisis Dominic de Guzman (1170-1221) founded the Order of Preachers (OP). Dominic first founded the nuns to pray for the preachers. This was followed by the lay brothers to assist the traveling preachers. Dominican friars filled the cities and countryside with preachers and teachers. The chairs of the great universities were filled with friars such as St. Albert the Great (1206-1280), St. Thomas Aquinas (1225-1274), and Meister Eckhart (1260-1327). The Order produced great mystics such as St. Catherine of Siena (1347-1380), a Doctor of the Church.
Today the Dominican family is alive and well world wide. Men and women of the Order by the hundreds have been declared Saints and Blessed. The preached WORD is the naming of grace in our times; all of us by baptism are itinerant preachers of the Good News of Jesus Christ.