The Black Dominican
Preaching Team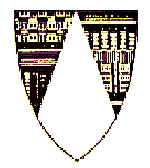 ---
Preaching in the African American
and Dominican Traditions
"Where Heart and Head Meet."
IDENTITY: We are Black and we are Catholic... two heritages which are valued and deeply honored! Some may feel that either of these could compromise or negate the other. In reality they compliment and nourish one another. Spread the word!
HISTORY: In 1216, Saint Dominic de Guzman founded the Order of Preachers (the Dominicans)in response to a desperate need for informed preaching that could not be met by existing resources within the Church.
For the sake of providing bold and sound "Gospel preaching" for God's people, Dominic began a tradition of spirituality for an active apostolate rooted in choral/liturgical prayer, community life,and meditation (study).
For nearly 800 years, Dominican men and women have continued this excellent tradition of praying and preaching the Gospel.
In March, 1995, the Black Dominican Conference was formed as a means of bringing this venerable tradition to the Black Cathlolic community in a more focused manner. One means of accomplishing this task is "Gospel preaching."
PURPOSE: The Black Dominican Preaching Team -- a joint effort of Black friars and Sisters -- was formed to focus on "Gospel preaching" in Black contexts. As St. Dominic saw and responded to a need in the 13th century, today we see and are responding to a great need for "informed preaching" in the African American community; the need to both inform and affirm our cultural heritage and history, the need to show the complimentarity of the faith with Black contexts.
---
The Black Dominican Preaching Team is a corps of preachers and teachers available to do RETREATS, REVIVALS and LECTURES in parishes, colleges, and other settings with an African American presence. We bring to this ministry the long Dominican tradition of excellence in preaching and vast experiences as Pastors, Administrators, Theology Professors, Teachers, Youth Ministers, and Chaplains.
"We are ready, willing, and able to serve the needs of your community..."
Parish Renewals & REVIVALS!
+ + + + + +
Lectures on :

African American
History
Spirituality
Culture
and More...
That They May Know!
---
For Information Contact: Black Dominican Preaching Team
843 West Garfield Boulevard
Chicago, IL 60621 (312) 994-0252
In Collaboration With: The Black Dominicans Conference(The Order of Preachers)