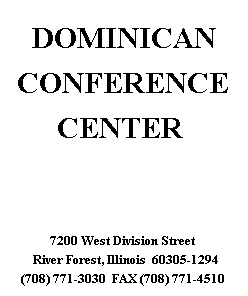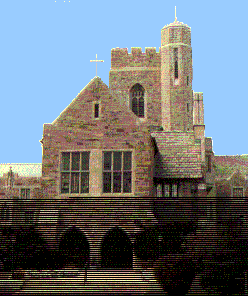 "A place to gather, to pray, to study, to explore,
to grow with one another and the Lord."
---
CALENDAR OF SCHEDULED EVENTS.
---
WELCOME
The Dominican Conference Center is a ministry of the Dominican Central Province of St.Albert the Great. The Center offers innovative approaches, through its facility and programs, for individuals and groups to gather, to grow, to learn and to renew the total person and the local, national and international community.

The Dominican Conference Center shares in the Dominican Order's commitment to excellence. Our goal is to promote and assist in the enrichment and growth of individuals and society through the Dominican tradition of communal searching for the truth and the offering of warm hospitality to all guests.

We welcome both individuals and religious, business, educational and civic groups to our Center. Our facilities are available for one time or recurring events.
---
---
FACILITIES

Small & Large Conference Rooms
Auditorium
Overnight Accommodations
Chapel
Library
Lounge
Dining Rooms & Food Service
Audio-Visual Equipment
FAX & Duplicating Services
Outdoor Patio & Attractive landscaped Gardens
Retreats
Days of Recollection
Educational Classes & Seminars
Workshops
Spiritual Direction
The Center's Staff will be happy to work with you to develop a program tailored to your own person; or group requirements:
Establishing goals and objectives
Designing events
Surveying available resources
Budgeting
The Order of Preachers, the Dominicans, were founded in 1216 by St. Dominic de Guzman, in response to a grave need in the church for informed preaching. He adapted the structure of monastic life so that his friars were free to move wherever their preaching was needed. Our tradition of spirituality is rooted in common life, liturgical prayer and meditation, study, and ministry of the Word.
The Dominicans continue to draw upon their origins and the charism of St. Dominic to serve as preachers of the Gospel. To be a Dominican is to be part of a family that includes cloistered nuns, ordained and non-ordained friars, religious sisters and laity.
We are teachers, artists, theologians, evangelists, spiritual guides, musicians, scientists, philosophers, pastoral ministers, missionaries,workers for social justice, involved in media and communications, contemplatives- all brother and sister Preachers bringing our talents and skills to bear on the ministry for which we were founded.
A current fee schedule is available upon request.
---
LOCATION

The Dominican Conference Center is located at Harlem Avenue & Division Street in River Forest, Illinois. We are 30 minutes from both O'Hare Airport and downtown Chicago and are easily accessible by public transportation.

For more information write or call:
Director
Dominican Conference Center
7200 West Division Street
River Forest, Illinois 60305.
(708) 771-3030 FAX (708) 771-4510


You may contact the Dominican Conference Center at: mwinkels@theramp.net