Rev. Jacob J. Joerger, O.P., M.A., S.T.L.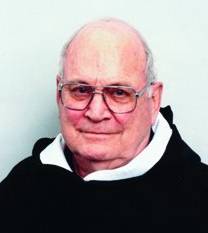 Born, Nov. 10, 1923, Professed, Aug. 13, 1961
Ordained a Priest, May 22, 1948
At Rest, Jan. 1, 2004
Joerger O.P., Rev. Jacob J. 80 years, January 1, 2004, beloved son of the late Verena C. (nee Canova) and Joseph A. Joerger. He was preceded in death by his brother Oscar and his sisters Pia, Mary (Casey) and Carmen (Wood). He is survived by his sisters Ruth (Sadowski), Verena (Urbigkeit) and Columba (Stayart), by several nephews and nieces and remembered fondly by the Dominican Friars of the Province of St. Albert the Great and his many friends. Funeral services at St. Pius V Church, 1909 S. Ashland Ave., Chicago, January 5, Visitation 9:30 to 10:30 a.m.; Office for the Dead, 9:30 a.m.; funeral Mass, 10:30 a.m.; Interment Dominican plot, All Saints Cemetery. Memorials may be made to the Society for Vocational Support, c/o Dominican Provincial Office, 1909 S. Ashland, Chicago, Il, 60608. 773-736-3833.

Comments by the Provincial, Fr. Michael Mascari.