Foreword



Very Reverend Justin Hennessey, O.P.
Prior, St. Thomas Aquinas Priory, Providence
When I was at St. Vincent Ferrer in New York City, I frequently walked through the baptistry on my way from the Priory to the Church. It was the most direct route and the baptistry was an artistic and devotional gem. It was not a slavish copy of an ancient building, but the steps down to wavygreen marble suggested going down into the waters.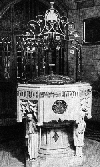 The octagon made by the walls suggested the Eighth Day of the New Creation. Careful attention to many details added to the over-all effect. One of these "details" was the presence of carved angels upholding the baptismal font in the middle of the room. They were the work of Fr. Thomas McGlynn, O.P.
I didn't know too much of Fr. McGlynn at that time. I had heard of him, but we were about a generation apart in the Province. I had read, some years before, his book Vision of Fatima about the statue that he had done, under Lucy's direction, of Our Lady of Fatima, and later had a chance to see this great work both on a pedestal in the midst of the piazza and later above the great doors of the facade of the basilica in Fatima. A copy of this statue is in the north transept of St. Vincent Ferrer. The church also has two other examples of the work of Father McGlynn: the strong bronze Martin de Porres and the graceful Our Lady of Lourdes. My favorite among his works is not there; it is the Saint Dominic on the grounds of Providence College. He is that 'athlete of the Lord,' that apostolic man who seems almost to be running to encounter others to whom he would preach. Later I met Fr. McGlynn and learned from him and from others more about what kind of man he was -- his concern for the poor, his energy for the pro-life movement, for those in prison. He seemed to have a special affection for the needy. I am happy to invite you to read more about this twentieth century artist and his work, but also of this dedicated and compassionate Dominican.